Hi guys!
I am really excited to write this update. As this time I have good news only and no bad news!
###Short summary first
V is entering production in a few weeks time as the screens arrive to our warehouse. The current schedule is that V's first batch will be fully produced and sent to shipping company by 10th of June. Also V will be in Microsoft's keynote at one of the biggest tech shows, Computex in Taipei. Additionally we are excited to tell you that all of the issues reported by prototype testers and discovered by our team have been fully fixed and will not happen in production!
Read more to find out about:
Nothing is preventing us from producing Vs! How we manage to resolve our problem with LCDs
Update on bugs & hardware issues
Vigorous tests that V has gone through
Latest update on PayPal situation
Some cool videos from China
---
Let's jump straight into the details!
###1. Shipping schedule
As we have mentioned in the previous update displays we received from our suppliers were having a large amount of defects. That has caused a delay as we had to ship defective screens back to get new screens without quality issues. I am happy to say that this problem has been now solved!
New screens from our vendor are arriving to our warehouse this week! They have assured us that there was a mistake on their quality check process last time and this time screens will have top notch quality. As a backup plan to ensure we will not have any delays again caused by quality problems we have agreed that our supplier will ship us 5000 screens, and in case we have issues with the defect rate we could pick screens without quality issues for the first batch of devices to be produced.
After screens arrive we will inspect them with special equipment and send them to our touch panel supplier for direct bonding. That process will take around a week after which touch panels will arrive to our factory and we will start the assembly process immediately!
After V's have been assembled we will spend 1-2 days for quality inspection and individual screen calibration to make sure that after all the wait you get an awesome device!
Schedule for the second batch is as before and deliveries will not take longer than 30 days from first deliveries.
###2. Bugs & Hardware issues
This is a short one. You can't imagine how happy I am to say that 100% of all known issues and bugs have been fixed!!!
All of the issues discovered by @Prototypetester and our team have been successfully resolved! Things like headphone jack static, track pad click noise, keyboard prints misalignment and many more are gone!
Here is short video of us fixing headphone jack

When we started the DVT1 stage we had over 100 open issues. 110 to be exact

We will share the list of bugs & hardware issues we have fixed after sometime. As currently many of the issues are under NDAs with our vendors.
Cheers
guys!
And special thanks to all of the prototype testers as you have brought up some of the issues we would have not noticed!
###3. Tests V has gone through
We have done a lot of improvements after stress tests of our device. Most of the time in development is actually spent testing newly implemented features and functions. Below you can find some of the tests V had to go through! V has passed all of the tests below!
(RF frequency test)
Button lifetime test
Power and volume button is pressed 30, 000 times each. Vs buttons work just fine. They did get a little bit softer
Kickstand life test
In the latest test Vs kickstand was opened and closed 15,000 times. After the test V's kickstand lost only 15% of force required to open it without getting loose.
Kickstand is tested with a machine like this.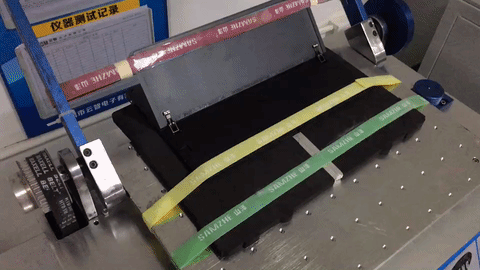 Port lifetime test
USB C and USB A ports had connector plugged in and out 5,000 times each. Headphone jack 3000 times. Ports worked well after the test.

Connector Thrust Test
The goal of this test is to ensure that a USB port is not broken when you have USB device plugged into it and pressure is applied from the side. 5KG force is applied to the USB plug. Ports did not get loose nor lost function
Electronic Discharge test (ESD):
The purpose of this test is to make sure the device is properly grounded and users will not be hit by electric current no matter where they touch the device.
Voltage applied is 8KW. V has passed this test as well.
Rusting tests
V and its charger have spent 24 hours in a 90% humidity chamber with salty mist. Results are great here as well. No rusting!
Alcohol Test
95% strength alcohol is applied on a cotton ball and rubbed with 500 grams of force 300 times against the housing to make sure that alcohol does not damage housing color. Yet another pass:)
Adhesive tape housing test (Paint chip test)
Device housing is scratched and strong 3M tape is applied and quickly removed to check if paint (anodizing in our case comes off)

Screen pressure test
500g of force are directly applied to touch panel.
Falling steel ball test
Steel ball is dropped from 30cm with weight of 64 grams to make sure glass doesn't break. V passed this again! Now we are testing its limits:)
Vibration test
V is attached to a vibration machine to check how well it will withstand transportation. Continuous vibration for 1 hour with frequency of 55 Hz and 5 mm amplitude
Drop test
V is dropped from 60cm height to see if there is any damage caused. V coped with 60cm easily now we are testing at what point it would actually break
Rubbing test
Paper roll is spun continuously and has 160g of force applied. Goal of the test is to check if there is any visible wear seen on the housing.
V and its keyboard have gone through more tests such as:
Pogo pin connection test
Pogo pin rub & twist test
Low and high temperature operation
Cable swing test
And quite much more.
I decided to put most interesting ones to this post!
###4. PayPal situation update
The good news doesn't stop here!
Most of our funds have been unfrozen and we were able to successfully pay our vendors! We think the support tickets that some of you have sent to PayPal have definitely helped!
###5. Bonus stuff from China trip last week!
Using V bluetooth keyboard on multiple devices

Keyboard motherboard factory SMT run

V limited edition
V pen magnet